Oil in spark plug well is a problem that worries drivers. When this happens, your spark plug O rings will be contaminated and cannot manage to seal your plug tightly. Engine damages might arise if you leave it unsolved for a long time. Thus, detecting the early signs is extremely crucial.
Knowing that, Driverevolve has put together the 6 most common signs of oil leaks in spark plugs, common causes, and the best ways to address the problem.
Oil In Spark Plug Well Symptoms
A few signs might suggest that there is oil in the spark plug well of your vehicle. With these basic clues, you can quickly detect and resolve the problem before your vehicle develops more severe complications.
Gas Smell From Your Exhaust Pipe
Have you ever questioned why you keep smelling gas from your vehicle's tailpipe? Well, it might be because of oil leaking into spark plugs. This is true for many other cars, and the odor sometimes even enters your automobile cabin.
Blue Smoke From The Exhaust
Your tailpipe may soon begin releasing bluish smoke, indicating oil is burning somewhere inside your engine. Most of the time, such smoke appears when there is oil inside your spark plug well.
When there is oil inside your spark plug, it affects your car's performance and how it consumes gasoline. Gas supply increases when the ECU attempts to adjust the optimum gas ratio.

And the extra unburned fuel in the combustion process would escape via the outlet pipe, creating the bluish smoke.
Decreased Engine Performance
As the oil inside the spark plug well meets up with the plug, it affects spark making process. Note that these sparks are in charge of the ignition of your vehicle. Also, when the oil leakage contacts the spark plug's head, it will severely contaminate the head.
Consequently, your fuel-air combination won't be able to ignite in the vehicle's combustion chamber. As a result, there will be insufficient pressure for your engine to function correctly.
Engine Misfiring
This can happen for a few reasons (like a bad O2 sensor); one is oil leaking inside your spark plug well.
Indeed, having oil inside your spark plug, creating a spark for effective ignition of the fuel-air combination is difficult. As a result, you will notice your car's engine malfunctioning.
Increased Fuel Consumption
An increased gas millage might indicate that oil interferes with your spark plug. In short, if you notice increased gas consumption, you should inspect your spark plug to determine whether there is oil.
Engine Backfiring
Engine backfiring happens whenever your fuel-air mixture burns up outside the combustion unit. When there is oil in the spark plug well, the poor combustion of the fuel-air mix forces unburned gas to escape to the tailpipe and cause engine backfiring.
5 Most Common Causes For Oil In Spark Plug Well
If oil is in your spark plug well, you will have to use extra oil for your engine to keep it running. If you don't, your motor can burn up, triggering mechanical damage or even a fire.
To discover how to fix this, you must first grasp the sources of oil seeping into your spark plugs. The following are 5 of the most prevalent reasons for oil leakage into your spark plug well.
Your valve cap is a metal piece that sits atop your engine. A valve cover seal exists between this cap and your engine cylinder head's tip. This maintains the engine protected and prevents oil leaks.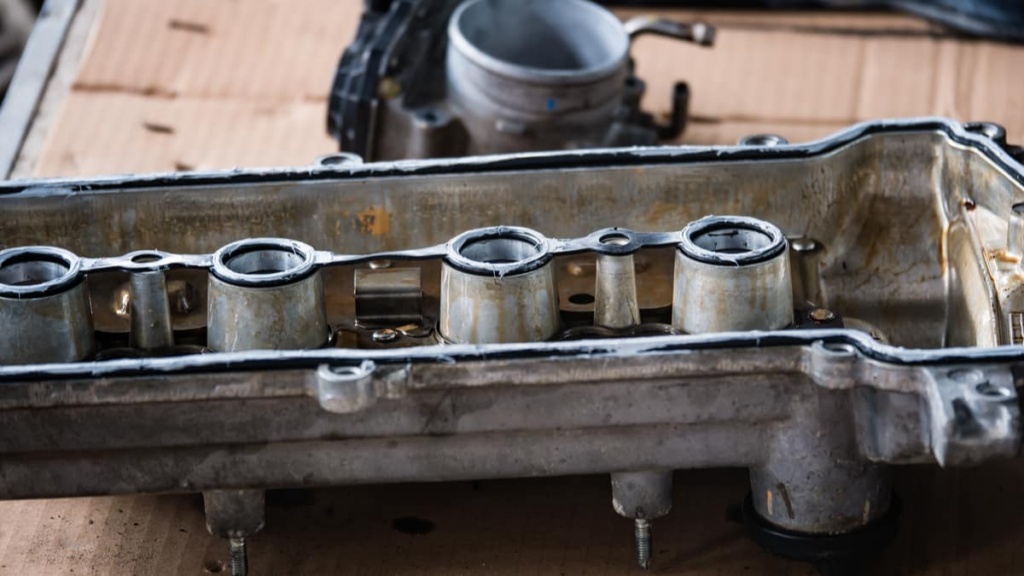 Unfortunately, the high temperature of your engine will eventually affect your valve cover seal. It will ultimately fracture and turn hard or crumbly, allowing oil to flow through the seal.
If you detect the issue early enough, you may simply change your leaky valve cover seal. Otherwise, a lack of oil might cause severe damage to your vehicle, causing you extra bucks.
Old Valve Guide Seals
Cars rely on valve guides to effectively manage air inflow into their engine. These valve guides, in short, lock your valves throughout engine operation. The biggest concern is that valve guide gaskets inevitably degrade as you use your car.
It is advisable to repair or replace these gaskets since worn valve guide gaskets might allow oil to flow into your spark plugs. If this occurs, you may encounter several engine failures, resulting in a hefty repair bill.
Worn O-Rings
There are O-ring gaskets underneath your spark plug pipes—oil leaks through and into your spark plug well when an O-ring is old or cracked. You'll have to address this issue immediately before your engine suffers too much damage.

Book a service and have them replace these O-rings for you. You'll also want to change your spark plugs since the oil might have already contaminated them.
Crack Piston
If your piston is overheated, it might crack. After that, it will begin to bang and shake. A faulty piston will likely allow oil to seep into your spark plugs, causing many new complications.

Your engine will fail to start repeatedly, and it will underperform. All these factors will damage your engine if your pistons are not changed soon. Contact a mechanic and tell them to replace your pistons.
Defective Piston Rings
Piston rings sit on the top and bottom of all pistons inside your inner combustion engine. These compressed rings' main task is to prevent oil from reaching your combustion area and to discharge excess oil from the tube walls.

Therefore, if your piston rings are old and degraded, they will be unable to prevent oil from running into your spark plugs. Thus, get your piston rings checked and replaced if necessary!
Wrapping Up
Oil in spark plug well isn't something to overlook. Indeed, leaving it unsolved for a long time might cause lower fuel economy, engine misfires, and internal damages.
In the worst case, it might even annihilate your engine. And, of course, the bill for fixing its later consequences won't be easy on your budget. Thus, get your car serviced whenever oil leaks in your spark plug.
For more knowledge of car parts, refer to our Fun Autopart section.